When it comes to improving SEO, there are some things you can do immediately. Others require more patience, particularly when you consider how well-established websites outperform newer websites in terms of engagement and search engine ranking.
It takes time to build credibility, rank, and trust, but knowing what influences some of those factors can help you set yourself up for success in the meantime. Let's look at a few components of a well-established site.
Domain Name
When building out a new site, optimizing the domain name is a great way to include keywords and start off on the right foot in terms of search rankings. Some things to keep in mind when choosing domain names:

Include the entire name of your business without abbreviating or hyphenating

Use subdirectories rather than subdomains, so that search engine bots don't view different areas of your site as different sites altogether.
While how you name domains and URLs is important to SEO, domain age doesn't impact search rankings. Google has confirmed that a domain can be around a long time, but without implementing practical SEO strategies like linking and content optimization, an older website is no better off than a brand new one.
Inbound Links
One thing Google and other search engines definitely do consider a ranking factor is inbound links: links on other websites that point to your site. Even sites that have been around a while can struggle with this, so the earlier you can start, and the more diverse your approach to link building, the better off you'll be.
Data syndication can be a great way to get more inbound links, since a third-party platform can publish your content to multiple outlets. For this to work well, make sure you choose a syndication platform that reaches your target audience and matches the content format you're focusing on.
And the importance of consistent, high-quality content can't be overstated. When people on those platforms, or anywhere on the web, see your content, valuable information and a demonstration of expertise will motivate them to link much more than hitting a word count or keyword stuffing.
Advertising
Over time, organic traffic and search results, and other SEO best practices will carry some of the load. But a focus on search advertising can help a new website gain ground and build credibility until that time by getting your web pages in front of potential customers sooner.
Search advertising (also known as paid search) is a great way to build engagement. You need to build links and get people and search bots to notice your site. Numerous paid search strategies allow you to pay for better placement on search engine results pages (SERPs) without your content sticking out like a sore thumb.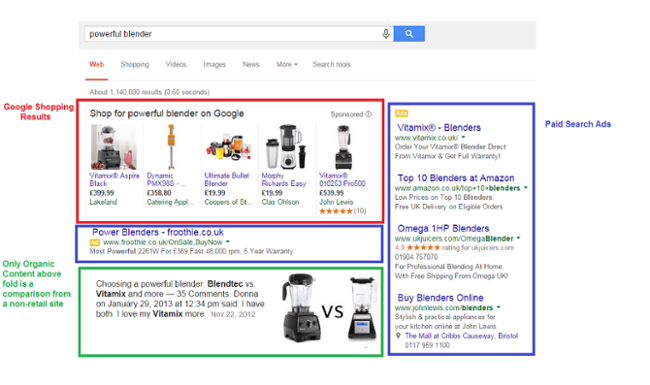 This image from WSI shows how paid search ads, Google Shopping results, and organic results integrate for a natural-looking search results page that helps multiple businesses get their content in front of customers.

Start with Major Services
As you're developing an approach for search advertising, content marketing, and link building, focus on your major products and services.
Invest your time and resources according to what is most meaningful to you and most essential to your business. Set specific campaign goals for those products and services, and make sure they're getting in front of your target audience before you build out any additional major advertising or content efforts.
Over time, you can integrate sub-services and minor products into this strategy once you know existing pages and advertising campaigns are performing well.
Set Expectations
How long does it take? When will we see results? These are good questions to ask your digital advertising team and your performance marketing agency. The short answer is, it takes 6-12 months for a new website to get established and start showing up in search. And all the efforts we've discussed will only help you get off to a stronger start.
Monitor Analytics
It's crucial to monitor site and campaign analytics anytime you're working on digital marketing, but especially while getting campaigns and web pages up and running. Site performance audits and regular data reporting will help you see what's working in real time, along with alerting you to potential opportunities for growth and adjustment.