How many times have you worked with a performance marketing agency or a web developer to get a website up and running, only to wonder if all the SEO best practices you've been working on are working?
Google Search Console (GSC) can help you get answers. GSC is a free tool designed by Google to help you measure your website's search traffic, improve site performance, and rank better in Search Engine Results Pages (SERPs).
What Can Google Search Console Do?
GSC is a phenomenal tool. Thanks to the insights it gives you, you don't have to wonder how SEO or paid search advertising is going. You'll know the answers in real time. Here's what GSC delivers:

Search Analytics: See what keywords bring users to your website. You can see data for impressions (how many people have viewed your pages), clicks (how many people have clicked on website elements), and position on Google SERPs (how close to the first position you are).

Search Visibility: Google Search Console is your opportunity to submit sitemaps and individual URLs for crawling. Your dashboard will allow you to review your index coverage to ensure Google is viewing and indexing the latest version of your site.

Realtime Website Alerts: When Google identifies issues on your site, you'll get real time alerts. You can see URLs with problems, get recommendations for how to fix them, and be able to update Google when they've been fixed. That way, you can be certain Google will know problematic URLs are no longer hurting your search rankings. Fixing these issues can help you improve search rankings, accelerated mobile pages (AMP) performance, and enhance site usability for mobile users.

A "Google's Eye View": With Google Search Console, you see your webpages the way Google Search Bots see them. GSC uses a powerful URL Inspection Tool that delivers detailed crawl, index, and serving information about all your indexed web pages, straight from the Google index.
How Is Google Search Console Different than Google Analytics?
Think of Google Search Console and Google Analytics as two wings of the same plane. You need both to make your search engine optimization plans a success.
The difference boils down to the focus of each tool. Google Analytics is user-focused. GA data gives you insights into who visits and interacts with your website. Google Search Console is SERP-focused. GSC is designed to help you improve visibility on search engine results pages, especially Google itself.
How to Set Up Google Search Console
Similar to checking for Google Analytics, it's easy to know if Google Search Console is installed.
Navigate to the GSC homepage. Are you redirected to a dashboard? If so, you're up and running. If you see a landing page that explains Google Search Console and directs you to get started, you'll need to login and add your site to the GSC tool.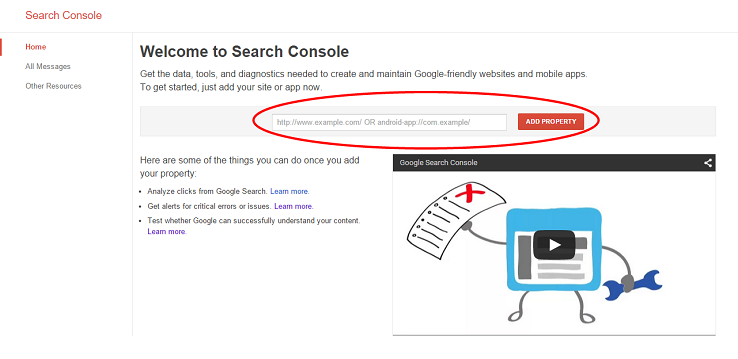 To get GSC to work, you need to add and verify your site to prove to Google that you're the site's owner, webmaster, or another authorized user. To do this, log into your Search Console account.
Then click the red button at the top of the next screen that says "Add Property" to add your site to Search Console and start generating insights and reports. Remember, it takes about 24 for most sites to show up. If you're still having problems seeing any data after a few days, reach out to Google Support.
What to Check on GSC (and How Often)
Checking Google Search Console regularly is a good practice. But how often should you check? After all, it takes time for a new site to become well-established or to know the impact of a significant site overhaul.
DodgeballSEO digital marketing experts check clients' data regularly so we can stay on top of any issues, but we recommend checking impressions data monthly if you're working with an in-house marketing team or managing the site yourself. This way, you'll get a sense of clicks from week to week.
The most important thing to monitor on Google Search Console are alerts and error reports. Log into your GSC dashboard daily to review any website alerts. As soon as you see a problem, work with your marketing agency or web developer to rectify it so your search rankings don't take an unexpected hit.